We'll create custom tailored logo specifically for your company.
San Francisco Graphic Design Company
Graphic design is an art of planning, projecting and outsourcing ideas, so as to achieve particular objectives with the use of visual as well as textual content. It is also considered as visual communication and artistic depiction of ideas in the form of images, words, symbols or graphics.
The term graphic design covers a wide series of activities including web design, logo design, labeling design, brand packaging and banner design so on and so forth. What Kinds Of Graphic Designs Does A Company Need and WhyGraphic design has become more comprehensive and appealing in this modern era of business and technology. This concept is applied to different fields and specializations.
Why You Choose Us Are you looking for an affordable yet reliable graphic design services for branding of your company or business?
Our Admoore Marketing graphic designer team is well-equipped with skills and expertise that will build professional designs for your branding needs. We provide all-in-one marketing plan suitable for branding of different businesses fall in particular industry.
We provide a combination of both print and design services to ensure quality and consistency of branding through online promotions as well as offline campaigns for your firm. Mostly, customers relate product design or branding design of a company to its reliability. A design that does not match with your company's branding can create doubts in customers' minds and cause serious problems such as low sales.
So are you excited about professionally branding your business so you can sit back and watch how your brand works wonders out there?
Do you want to discover what it is all about? How it is different from its competitors' agency? You can take your company's branding and design to another level with our experts of graphic developers and designers.
We will ensure that graphic designs look great, as well as give your brand the maximum quality and incredible outcomes in shape of maximum sales.
Our graphic design services include:
Design of a Company's Logo
Printing and designing t-shirts
Marketing designs such as magazine advertisements, social media graphics, brochures
Billboards, email marketing layouts, and marketing content
Publications designs such as books, newsletters, magazines, newspapers, and eBooks
Ecological designs such as road signals, event places, signage, and wall paintings
Packaging/ Bundling Design such as a sticker, label, or wrapping of products
Motion Graphic Design such as animation videos, applications, GIFs, computer games, site features, and so on
Quality Graphic Design Services

Turn Visitors into Buyers w/ a Modern graphic design
Corporate design deals with the visual identity of a particular brand or company. Any visual components that make up a brand's identity can be related to corporate design. An example is a company's logo made with logo design software. This kind of visual design is created for the purpose of brand marketing to convey brand values through pictures, shapes, and colors.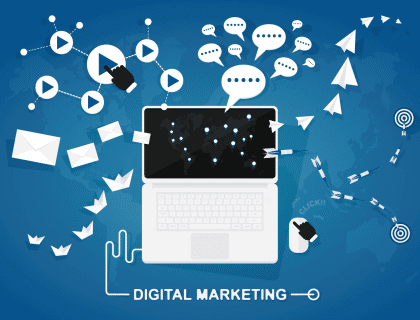 Marketing/Advertisement Design
One of the most traditional and well-known kinds of graphic design is marketing or advertisement design. Whenever you think of graphic design, the one form of design that first comes to your mind is marketing design. The advertisements consist of social media graphics, email marketing layouts, billboards, brochures, magazine advertisements, and marketing content is most commonly used graphic designs.
Traditionally, publication design referred to print design. However, with the digitalization of this generation, it has passed over to digital publishing. Designers need to work closely with copy editors and publishers to guarantee that typography, formats, and graphics are beautifully combined in order to produce the most ideal results. Books, magazines, newspapers, and eBooks are examples of printing or publication graphic designs
Ecological graphic design is usually largely sidelined. Basically, it refers to the use of visual components in natural environments in order to connect people to nature. The motivation behind the ecological design is to enhance individuals' experiences in those spots to make it more memorable for them and an inspiration for viewers. Engineering, signage, event places, road signals, and wall paintings are for examples of ecological design.
Packaging/Bundling Design
Whenever a customer buys a product, he finds some kind of packaging/bundling design component such as a sticker, label, or wrapping that is utilized to set up the item for distribution. These visual components are produced by the packaging designers. It is critical that graphics developers are well-informed about current market trends in a particular industry to guarantee successful product marketing.
Motion Graphic Design is a subcategory of graphic design that refers to graphics that are in motion. This can incorporate computer games, animation videos, applications, site features, GIFs, and so on. This is a fairly new area in visual computerization as high-tech advancements have enabled graphic designers to discover new mediums.